Defined by Wikipedia as – a term that describes the relief of pressure on one or many pinched nerves (neural impingement) of the spinal column.
Questions answered by Spinal Decompression are answered as follows …
What is the best Medical study that documents the effectiveness of Spinal Decompression Therapy?
One study documented by MRI up to 90% reduction of disc herniation's in 10 of 14 cases and other studies reported that the majority of ruptured disc patients achieved "good" to "excellent" results after trying this therapy.
Are there conditions where Spinal Decompression Therapy is not indicated?
This therapy is not recommended for pregnant women, patients who have severe osteoporosis, severe obesity or severe nerve damage.
Spinal surgery with instrumentation (screws, metal plates or "cages") is also contraindicated. However, spinal decompression therapy after bone fusion or non-fusion surgery, can be performed, but not by us.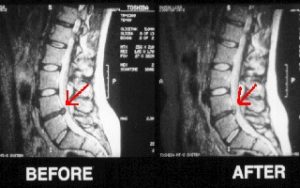 Are the sessions painful, how many will be needed?
In almost all cases, the treatments are completely painless. In fact, some patients fall asleep during the session. The specific treatment plan will be determined by the doctor after your examination. Based on current research the best results have been achieved utilizing 20 sessions over a 6-week period.
Do most patients receive therapy and rehabilitative exercises in addition to Spinal Decompression Therapy?
To reduce inflammation and assist the healing process, supporting structures are treated with active and passive therapies (ice/heat/muscle stimulation), decompression therapy is a very powerful tool, highly recommended and when appropriately used, it can help some disc patients that have failed in all other systems, including traditional chiropractic. However, it is the rehab that creates the stability and correction to enhance and stabilize the benefits of this technique.
How do I get started?
We want make it easy for you to learn if you are a candidate for this therapy. Just print out any part of this webpage and bring it on your first visit and you will receive a complete evaluation – including consultation, history, orthopedic/neurological testing, X-rays (if indicated) and report of findings… for NO Charge.